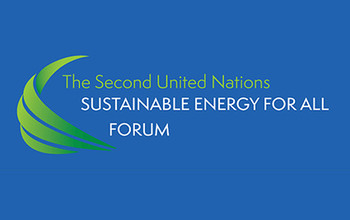 18 - 21 May 2015. United Nations Headquarters, New York
 +INFO:  se4allforum.org
The Annual Sustainable Energy for All Forum is intended to become the annual meeting place for the extended global energy community.
The overarching theme of this year's Forum is "Financing Sustainable Energy for All", including with a launch of a new Global Sustainable Energy for All Commitment Platform. Importantly, the Forum will also feature the first ever Global Energy Ministerial Dialogue at the United Nations, in order to reaffirm the Rio+20 determination "to act to make sustainable energy for all a reality", and an Advisory Board meeting, co-convened by the United Nations Secretary-General Ban Ki-moon and the World Bank Group President Jim Yong Kim.  In focusing on how to act, the Forum will include a range of solution-oriented multi-stakeholder sessions for SE4ALL partners from all over the world, and from a variety of sectors. The Forum will also offer new approaches to track progress towards 2030 based on the 2nd biennial Sustainable Energy for All Global Tracking Framework. Overall, the 2nd annual United Nations Sustainable Energy for All Forum will:
Report and assess progress on the Sustainable Energy for All initiative;
Inspire actions and solutions by sharing knowledge, innovation and success stories across the world;
Present ideas and mechanisms to catalyze finance at the scale required to achieve Sustainable Energy for All;
Grow the broader movement of global stakeholders to advance the United Nations Decade of Sustainable Energy for All.