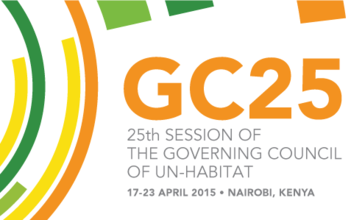 17-23 April 2015. Nairobi, Kenya
 +INFO:  unhabitat.org
The Governing Council is an intergovernmental decision – making body for the United Nations Human Settlements Programme (UN-Habitat).
The Objective of the Governing Council of UN-Habitat is to:
Promote integral and comprehensive approach to human settlements;
Assist countries and regions with human settlements problems;
Strengthen co-operation and co-participation in all countries on human settlement issues.
The Theme of the twenty –fifth sessions of the Governing Council (GC25) is: "UN-Habitat's Contribution to the Post-2015 Development Agenda in Order to Promote Sustainable Urban Development and Human Settlements"
The United Nations Advisory Committee of Local Authorities (UNACLA) meeting will take place in the framework of this event.