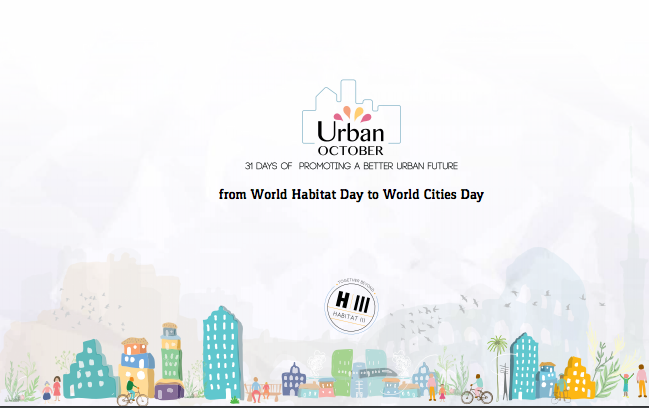 On  World Habitat Day 2016, that launches the beginning of the Urban month celebrations, UCLG reaffirms its commitment to the Right to the City for all and calls on the international community to harness the New Urban Agenda to support local and regional governments and make it a reality. The world must #Listen2Cities at Habitat III!
The first Monday of October of every year is World Habitat Day, an opportunity to reflect on the state of our towns and cities, and the right to adequate shelter. The theme of World Habitat Day 2016 is Housing at the Centre, a transversal issue in the Bogotá Commitment, which will be adopted at the UCLG World Congress in Bogotá on the eve of the Third UN Conference on Housing and Sustainable Urban Development (Habitat III) as the contribution of UCLG to the global development agenda beyond the Conference.
One of the core planks of the Commitment is the right to the city, understood in its broadest sense as the right of all inhabitants to the collective right to co-create the city and enjoy basic human rights, including the right to housing and the social production of habitat.
The Commitment also calls for an end to housing speculation, the promotion of cooperative and public housing models, security of tenure, and inclusive housing policies, particularly for migrants and refugees. At global level, the Bogotá Commitment calls for a global fund for infrastructures, basic services and housing to mobilize resources for leverage, and facilitate access to financing from banks and markets, particularly in low-income countries.
This year's World Habitat Day is particularly significant for local and regional leaders, hundreds of whom will gather in Quito later this month for the World Assembly of Local and Regional Governments in the framework of Habitat III. In a landmark for our constituency, the World Assembly has been explicitly recognized in the outcome document of the Conference, the New Urban Agenda.
UCLG would like to take this opportunity to express our endorsement of the political statement to be made by the World Assembly to Habitat III in Quito.
Today, on World Habitat Day 2016, UCLG and our members reaffirm our determination to guarantee the right to housing for all.
We are confident that a new governance partnership between regional governments and the UN post-Habitat III will support us to work with our national and international counterparts to make the right to the city a reality in cities and territories across the globe.
Happy World Habitat Day! Let's celebrate the urban month and join us in Bogota and Quito, to be all united for the implementation of the New Urban Agenda.
More information: